Ever After High je Mattelova franšiza lutaka, knjiga i web-serije iz 2013. godine nastala kao spin-off druge, starije Mattelove franšize - Monster High. Jedna epizoda traje 3 minute.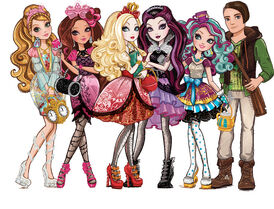 U školi Ever After High učenici se dele na Kraljevske (decu prinčeva i princeza iz raznih bajki), čiji je predstavnik Apple White, kći Snežane, i Buntovne (decu ostalih likova iz bajki), čiji je predstvanik Raven Queen, kći zle kraljice iz bajke o Snežani. Svi studenti treba da slede sudbinu svojih roditelja kako bi postali "sledeći/sledeća"... Apple White misli da ako je Raven Queen ne otruje sa jabukom nikad je neće poljubiti princ Šarmantni i nikad neće ispuniti svoju sudbinu, ali Raven Queen ne želi biti zla kao svoja maćeha i ne želi da otruje Apple iako joj je ona jako naporna pa se često ljuti na nju. Zato je Raven obećala da nikad neće postati nova Zla Kraljica što izazove veliku pometnju u Storybrooke Selu, mestu gde se radnja odvija i u kom se nalazi Ever After High.
Povezanost sa Monster Highom
Edit
Čarobno ogledalo
Edit
U jednoj epizodi, student Monster High škole, Chariclo Aranghtone Cupid - kći boga ljubavi, Erosa, prolazi kroz magično ogledalo koje deli Monster High i Ever After High. Tada Chariclo postaje student Ever After Higha.
Zaključak
Edit
Iz Monster High možeš doći u Ever After High i obratno...
Ad blocker interference detected!
Wikia is a free-to-use site that makes money from advertising. We have a modified experience for viewers using ad blockers

Wikia is not accessible if you've made further modifications. Remove the custom ad blocker rule(s) and the page will load as expected.