Bratz je humoristična animirana TV serija iz 2005. godine produkcije MGA Entertainment nastala po istoimenim lutkama.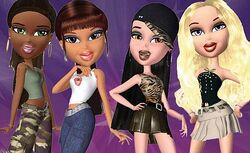 Radnja se zbiva u jednoj zgradi, a počinje kada zla urednica časopisa Tvoja spika, Burdine Maxwell otpusti svoju zaposlenicu Jade, ali ona osnuje svoj vlastiti časopis Bratz sa svoje tri prijateljice: Cloe, Yasmin i Sashom. Istovremeno, Burdine zapošljava dvije tupave blizanke Kirstee i Kaycee, nazvane Blizlobe. Tu su još i neki dečki Cameron, Dylan i Ethan, u koje su se Bratzice (kako se nazivaju Jade, Yasmin, Cloe i Sasha) zaljubile. Gotovo svaku epizodu Burdine pokušava uništiti časopis Bratz. U svakoj epizodi pojavljuje se niz gostujućih uloga poput producenta Byron Powella, vojvode Nigela Forrestera, ali i muzičke zvezde Alonce (remake Beyonce) i London Milton (remake Paris Hilton) itd. Takođe je snimljeno nekoliko spin-off serijala: Bratz Babyz, Bratz Kidz, Bratzillaz i Moxie Girls.
Snimljeno je mnogo animiranih dugomentražnih filmova kao što su Genie Magic, Forever Diamondz itd. Snimljen je i jedan igrani film i dva crtana filma Starryn'&Stylin' i Bratz Babyz. Zanimljivo je da je film Rock Angelz na našim prostorima podeljen na tri dela i prikazan kao prve tri epizode crtane serije, tako da je kod nas četvrta epizoda u Americi prva itd.
Skoro svi likovi imaju nadimke koje pokazuju neke njihove osobine - Sasha je Bunny Boo (srb. Bani Bu, hr. Beba Boo), Yasmin je Pretty Princess (Princezica), Jade Kool Kat (srb. Mačkica, hr. Maca Faca), a Cloe je Angel (Anđeo)
Ad blocker interference detected!
Wikia is a free-to-use site that makes money from advertising. We have a modified experience for viewers using ad blockers

Wikia is not accessible if you've made further modifications. Remove the custom ad blocker rule(s) and the page will load as expected.