Angel's Friends (srb. Anđeoski prijatelji; hrv. Anđeli i prijatelji) je italijanska magical girl serija stripova koju je kreirala Simona Ferri i prvi put se pojavila u martu 2007. godine. Prema stripu nastala je crtana serija od 104 epizode koja se premijerno prikazivala na kanalu Italia 1. 23. aprila 2011. godine, prema animiranoj seriji napravljen je i film - Anđeli i prijatelji: Između snova i stvarnosti (eng. Angel's Friends: Between Dream & Reality).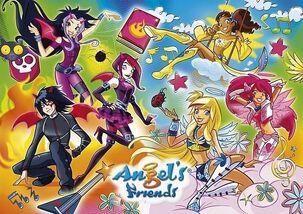 Raf, mladi anđeo, napunila je 15 zvezda i krenula na obuku u Zlatnu Školu kako bi postala čuvar dječaku sa Zemlje koji se zove Endru. Međutim, Raf upoznaje đavola Sulfisa, u kojeg se zaljubljuje, ali niko nesme znati za njihovu vezu. Na Zemlji, Raf treba da nauči Endrua svemu što je dobro, dok je Sulfisov zadatak da ga odvrati od toga i nauči ga lošim stvarima. U međuvremenu, zla Reina uz pomoć svoje sluge, Malakija, pokušava pobeći iz dimenzije Limbo u kojoj je zarobljena, ali kako bi se proročanstvo ostvarilo i ona pobegla, Raf i Sulfis moraju se poljubiti i Reina će poduzeti sve kako bi se to ostvarilo.
Ad blocker interference detected!
Wikia is a free-to-use site that makes money from advertising. We have a modified experience for viewers using ad blockers

Wikia is not accessible if you've made further modifications. Remove the custom ad blocker rule(s) and the page will load as expected.